THE MOST ADVANCED MULTI-PURPOSE POLO SHIRT EVER MADE. 
The All Rounder Polo Shirt is a cutting-edge, high-performance shirt with graphene integrated into every fiber. Empowered with the strongest, thinnest and toughest material yet discovered, every seam is laser-cut and welded. That means it's all pieced together by using thermoplastic tape instead of stitching.
This process makes it possible for the All Rounder Polo Shirt to offer unrivaled levels of comfort and performance by not using a single stitch in its construction. Graphene also works as a bacteriostatic agent, preventing the shirt to smell even after prolonged use. 
Laser-cut and welded seams
100% stitch-less
Highly breathable
Antibacterial
Abrasion resistant
Hypoallergenic
Moisture wicking
Anti-UV
Total freedom of movement



90% Graphene integrated polyester and 10% spandex
Weight: 280 grams (size M)
Graphene is integrated with the polyester fibers



Wash it properly, it'll last for years and years
Machine wash in cold water with delicate cycle
Do not bleach
Do not iron
Do not wring
Do not tumble dry
Do not dry clean



At Graphene-X we don't cut corners. That's why all our products are guaranteed for life. Graphene empowers our products with unrivalled durability and versatility
All orders over $189 qualify for free shipping. Under that we normally charge 75% of the cost the courier charges to us
Didn't love it or could use a different size? Send it back within 30 days of delivery and we will fully refund it or send you a new item


Proprietary fabric

Engineering the fabric for the All Rounder Polo Shirt started with hundreds of iterations where the world's strongest and thinnest material, Graphene, was always at the center. The wonder material had to be perfectly isolated and then applied to enhance the rest of the fibres - leading finally to the high -performing and abrasion resistant proprietary fabric that builds this polo shirt.
At the pinnacle of versatility

The All Rounder Polo Shirt is an advanced polo thermal shirt engineered to offer unparalleled versatility. Imagine the most advanced technical tennis shirt ever made, which also looks like an Italian high fashion shirt in a formal meeting and also is the most comfortable piece of gear you have in your closet for when you hang out with friends and family. It's the only polo shirt to fit every bill and fit in on every occasion. All this - in one single shirt.
Antibacterial
Copper and silver are becoming known - and used in fabrics - for their antibacterial properties. It's less well known that Graphene has superb antibacterial qualities too. By integrating Graphene in the All Rounder Polo Shirt we are putting an extra barrier of protection between you and the world that could inactivate 98% of bacteria and kill over 90%of them even after being washed hundreds of times. If bacteria can't grow, then you get a shirt that can be worn day after day, workout after workout and still don't smell.
Ultra-high performance (and looks)

The All Rounder Polo Shirt could easily replace the most sophisticated tennis or golf shirt out there and at the same time look and feel like a high-fashion Italian shirt. Our performance shirt works by integrating Graphene into every fiber, we've achieved a level of performance and comfort that makes merino wool and Supima cotton feel like a thing of the past.
Fits like a glove

The All Rounder Polo Shirt should be slim fitting but not tight. Manufactured with cutting-edge laser cuts this shirt is straight-up one of the best fitting shirts ever made. And some traditional features just have to be there, however advanced your materials: we kept the classic side vents at the waist, so your shirt is comfortable whether it's tucked in or not.
Superlative thermal management

Graphene excels at radiating heat, and its Far Infrared (FIR) radiation profile is almost identical to that of the human body. That means it is exceptionally efficient at managing and dissipating body heat. The upshot is that the All Rounder Polo Shirt keeps you warm when it's cold and keeps you fresh when your body is working hard. This polo thermal shirt is your perfect partner for outdoor sports and activities even in chilly weather.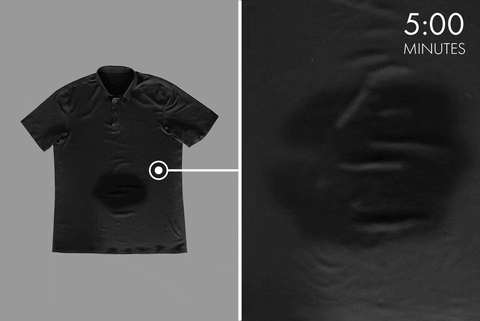 Wicking moisture

The All Rounder Polo Shirt wicks perspiration away from your body, helping you to cool down when it's hot but keeping you dry and warm when things get colder. And Graphene is hydrophobic, meaning it doesn't absorb moisture but dries quickly, ensuring you can keep performing at your peak throughout your day.
Subtle branding (you are not a billboard!)

At Graphene-X we are proud to have some of the savviest backers and clients around the world. By knowing what Graphene is, you already belong to the 0.1% of the people who know the potential of this material.
We want you to choose us because you have absolute confidence in our commitment to quality, performance, and innovation - and for this, we don't need to make your shirt a billboard of our brand.
The body odor (a.k.a. stinkiness) occurs when bacteria metabolizes fatty acids and proteins in sweat, and secretes waste (basically its bacteria poo). Graphene-X products rely on graphene, which effectively inhibits the growth of odor-causing microbes in the fabric.

Moisture-wicking polo shirts help keep you cool and dry by wicking away sweat and moisture from your body. The fabric is made from a synthetic material, such as polyester, that is lightweight and breathable. The fabric works by pulling the moisture away from your skin and into the fabric, where it can evaporate quickly.

Breathable polo shirts are ideal for athletes or anyone who wants to stay cool and dry while working out or participating in a sporting event (or rushing through the city madness). The fabric helps to wick away sweat and moisture so that it can evaporate quickly, keeping you cool and comfortable. The shirts are also usually made from light materials that help to keep you cool in warm weather.

Graphene has a variety of applications; the sports industry is just one of them. It has become popular among athletes and sports buffs because the material is incredibly strong and lightweight. Its properties enhance fabrics to perform even in the toughest conditions making them ideal to use on sportswear. For example, performance polo shirts made with graphene are designed to wick away sweat and keep you cool and dry while being extremely light.

Beyond activewear, graphene is also used in other sporting products, such as tennis rackets and golf clubs.
All Rounder Polo/ women
This is a well made, very comfortable polo shirt that is flattering to wear. I have a mature figure and the shirt looks good!
Height:
Less than 5'5" (1.67m)
A really nice feeling
I've already bought a polo shirt for my boyfriend last year and he was really pleased by his birthday gift : Nice to the touch, beautyful grey color, nice cut... I got a little jealous.
Now I have my own polo and I'm really fond of it (well "those" I mean, because I took two). The fabric is smooth on the skin and nice to wear. Thanks, I'm not jealous anymore !