THE ULTIMATE PERFORMANCE EVERYDAY PANTS.


PRE-ORDER (21% OFF): SHIPS IN MAY 2023

 

Built with our latest proprietary graphene-integrated fabric, the All Rounder pants sit at 320 grams of weight (47% less than traditional work pants), stretch in all 4 directions, dry in minutes instead of hours, will never need ironing and are built to perform like no other in the city, when traveling and even when adventure calls.

Packed with more than 10 features that the naked eye won't be able to spot these pants are the ultimate performance everyday pants.  


Graphene-integrated fabric
Lightweight
Packable
4-way stretch
Quick dry
No iron
6 pockets (one waterproof)
Multi-purpose
Adjustable cuffs
Bacteriostatic
UPF50+ protection



84% Graphene integrated T800 twisted polyester (105 gsm) and 16% spandex
Weight: 320 grams (size M)
Graphene is integrated with the polyester fibers



Wash it properly, it'll last for years and years
Machine wash in cold water with delicate cycle
Do not bleach



At Graphene-X we don't cut corners. That's why all our products are guaranteed for life. Graphene empowers our products with unrivaled durability and versatility
All orders over $189 qualify for free shipping. Under that we normally charge 75% of the cost the courier charges to us
Didn't love it or could use a different size? Send it back within 30 days of delivery and we will fully refund it or send you a new item



These are the different scenarios:
Case 1: If your order contains only Pre-Order (May 2023) products then it will be shipped by May 2023
Case 2: If your order contains May 2023 Pre-Order products plus other products and the sum of the other products is LESS than USD $189, then all the order will be shipped in May 2023
Case 3: If your order contains May 2023 Pre-Order products plus other products and the sum of the other products is OVER USD $189, then all the other products will be shipped now and the rest of the products by May 2023


Cutting edge graphene-integrated fabric

A T800 twisted 105 gsm polyester yarn was used so offer unparalleled comfort and freedom of movement. On top of this, we integrated the weft yarn with graphene so it helped the pants to endure heavy use and abuse and empowered the fabric with the incredible properties of graphene.

Note: this is a 100x macro image of the actual fabric used in these pants.
Extremely lightweight

The All Rounder Pants weigh only 320 grams. This is 47% less than traditional work pants and 60% less than jeans. With rising temperatures around the globe, you need pants that can handle the most hardcore environments, and that can be worn and packed as easily as it gets.
They pack (very) small
It's almost funny to see the difference in how much space these pants use when packed versus regular work pants or jeans. 
For those who move a lot it's all about volume and weight, right?
Shadow-like movements

The fabric used in the All Rounder Pants is classified as a mechanical stretch fabric (which by its nature breathes better than most of the fabrics around). Normally this fabric has a horizontal 2-way stretch but we build it so it did in all 4 directions.

The result: a pair of pants that move as freely as your shadow would do along with your body movements.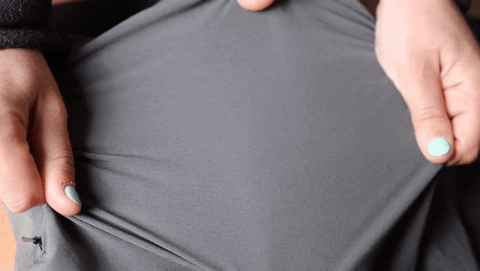 Water & stain repellent
We use a PFC free coating over the fabric of the All Rounder Pants so drizzle and non-desired elements slide through the surface of the pants.
Built to fit like a glove
The All Rounder pants feature a classic streamlined fit made to present no resistance to movement and that allows your body to breathe and feel fresh. 

Also, they sport an elastic waistband so they adjust to your exact waist and a no-slip interior band so things stay where they should.
Storage (a.k.a. pockets)

We all know how important storage is. On top of the classic frontal pockets, we added two invisible zippered rear pockets that will keep your valuables safe, a waterproof (10k) lateral pocket protected with a magnetic storm flap, an invisible side pocket and a media safe pocket so you can safely store your phone (even the really big ones).
Adjustable cuffs (hello bicycle)

We added an internal adjuster on the cuffs so you can tighten them when riding a bike or when hitting the trail. Best of all, you won't feel they are even there.
Tough as nails
While comfort is paramount for a pair of everyday pants, if we had to choose a second property in level of importance this would be durability. And the construction of the pants is key on this. On top of this graphene-integarted fabric, we added bar tacks on the most common fail points so they last. Really last.