BUILT WITH THE TOUGHEST (AND LIGHTEST) MATERIAL ON EARTH - GRAPHENE -, THE MOST ADVANCED 3-LAYER JACKET RETURNS... SUPERCHARGED. 
The new Alpha Series jacket is here. The crown jewel of Graphene-X returns with a bunch of upgrades. Improved materiality, better hood adjustment, and an inner zipper to connect with the GRAnaREC mid-layer are only some of the new features of this beast. We also added internal zippers on the main pockets so you can reach the pockets of your mid-layer. Pockets that reach other pockets.
Six months is the production lead time for the new Alpha. Why? Because only the best of the best elements are used in its construction. From the best Graphene out there to the world's best YKK zippers.
Extreme abrasion resistance, fully waterproof, highly breathable, and extremely lightweight are only some of the features of the new Alpha. If you're looking for the best breathable waterproof jacket, look no further than the new Alpha Series.
Extremely durable & abrasion resistant
Lightweight
Waterproof 
Breathable
Windproof
Moisture absorption
Antibacterial
Anti-UV
YKK zippers (all)
Pit zippers (double)
Inner zipper to connect the GRAnaREC
Front pockets feature inner zippers to reach internal pockets
Injected velcro on cuffs
Embroidered logo
Inner zippered pocket
Drop back hem
Taped seams
RECCO® Reflector device
Protective collar double adjusters on hood



Shell Face: 70% Graphene-integrated nylon and 30% polyester. PU membrane. Lining: 100 polyester
Weight: 750 grams (size M)
Graphene is integrated with the nylon threads on the shell face of the jacket



Wash it properly, it'll last for years and years
Close all zippers
Use a detergent for waterproof clothing (Nikwax recommended)
Do not use softener
Cold water
Use delicate cycle
Do not tumble dry
Dry in shade
Do not iron



At Graphene-X we don't cut corners. That's why all our products are guaranteed for life. Graphene empowers our products with unrivalled durability and versatility
All orders over $150 qualify for free shipping. Under that we normally charge 75% of the cost the courier charges to us
Didn't love it or could use a different size? Send it back within 30 days of delivery and we will fully refund it or send you a new item


Unfailing durability thanks to Graphene
Graphene (the strongest but lightest material on Earth) empowers the shell face of the new Alpha.
We ran the Martindale Abrasion and Pilling test on the new Alpha Series jacket (a test designed to test how the fabric holds up after X amount of rubs that simulate wear), and after 100.000 rubs, the fabric was as good as new. As a reference, military-grade gear is required to withstand 20.000 rubs to be fit for duty.
This makes the new Alpha Series a significantly more durable jacket, which means it will keep you looking good for longer and performing at your peak in all conditions.
Fully waterproof and breathable
Users of the previous Alpha techwear waterproof jacket reported how the jacket kept them bone dry while looking for a shelter in the middle of a storm after their boat moored. 
Almost two years after that, the middle membrane that brings waterproofness and breathability to the jacket has improved its performance dramatically. You can just imagine how good this works now. 
Connected layering
The new Alpha Series 3-layer waterproof jacket features an internal zipper so you can connect your GRAnaREC middle layer and make them truly work as one heavy-duty jacket. Layering is probably one of the most important topics before heading on an adventure. 
Factors like rain, cold, wind, and humidity can dramatically change the setting, and being ready is paramount. The GRAnaREC middle layer self-packs in its pocket, and it's a joy to bring along. Then, when conditions required, empowering the Alpha with its maximum insulation got easier and swifter than ever with this new inner connection zipper.
This little amazing piece of technology can save your life
The main purpose of a jacket like the Alpha Series II is to protect you against the elements. Well, the Alpha goes way beyond that. Imagine you are doing some backcountry skiing or venturing into the middle of Amazonas and suddenly weather gets you lost and without any kind of communication with the world. Meet RECCO. RECCO is a reflector which does not need power to operate and which will reflect signals from the rescue mission so they can identify your position. This reflector is hidden inside the hood of the Alpha Series II jacket and even though you won't ever see or feel it, it might just save your life.
Antibacterial shell face
With Covid-19 we started caring more than ever about hygiene and protecting ourselves against external pathogens. Copper and silver are known for their antibacterial properties and have been widely used to empower goods. Less known is the fact that Graphene is antibacterial as well.

By integrating Graphene in the shell face of the Alpha Series II jacket we are putting an extra barrier of protection between you and the world that could inactivate 98% of bacteria and kill over 90% of them even after being washed over 100 times.
Pockets that reach pockets
One of the biggest issues when layering down is losing access to the middle layer's storage space (pockets). The Alpha Series II jacket solves this problem by adding internal zippers to the front main pockets. 
This highly durable jacket is designed for utility. With this, when using your middle layer, you'll also have full access to their main pockets without the need to open or remove your Alpha Series II jacket.
Think about his again: Pockets designed to reach other pockets. How cool is that?
Superlative thermal distribution
Graphene radiates Far Infrared Energy (FIR) in almost identical waves as the human body. This leads to an incredibly efficient heat management. We have tested the Alpha Series II jacket accompanied with just a t-shirt in temperatures of 5 Celsius (41 Fahrenheit) and felt comfortable. Humidity, wind and even your own metabolism can change your comfort levels so consider using a mid-layer like the GRAnaREC if your adventure takes you to extremely cold settings.
Extra internal storage
We got a bunch of emails asking us to include an inner pocket in the new version of the Alpha. As in every challenge we face we choose the hard route and making this extra pocket had to be in line with the design and performance with which we engineer the rest of the jacket. It had to be fully seam taped and able to carry any mobile phone on the market (except for you guys who use iPads as phones!).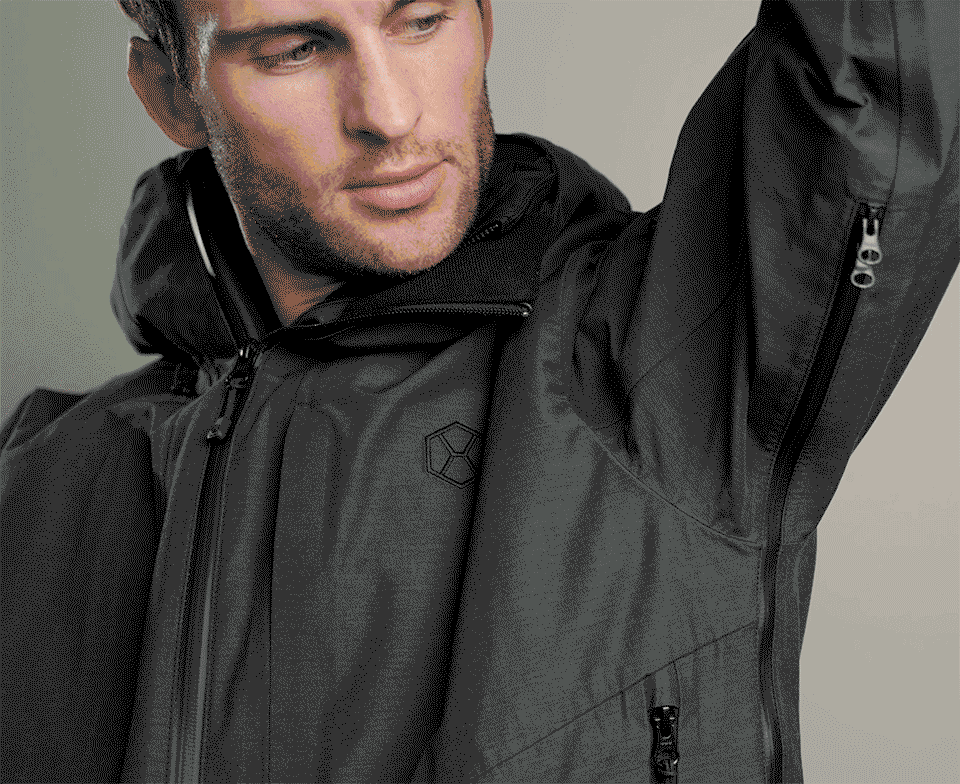 Double pit zippers
Pit zippers are probably one of the least understood features and at the same time one of the most handy on high performance apparel. Sometimes the going gets extremely tough and no fabric can offer the level of breathability we need to release heat.
Pit zippers are made for those occasions, and the new Alpha not only has them, but we also made them with double zippers so you can control exactly the amount of opening you want and the position of this opening.
Heavy duty jacket that can probably take more then one beating
The jacket is really nice to look at, solid and pretty heavy. Compared to my lightweight performance trekking jackets this one feels heavier but i don't have to worry to tear it up in the next minute! Some of the cords to make the jacket could be a bit thicker to give an even sturdier feel but they work amazingly well and strong. I choose XL and it runs big - for layering in fall and Winter it is perfect!
Best jacket I ever bought!
Absolutely love this jacket! Great fit and you will not get wet. It's really lightweight and can stow easily into a bag.
Still trying to break it
Very excited about this jacket. Yes, quite expensive and Graphene-X make some big claims about its wonderful, magical properties. I've had it for a little while now and it does help regulate temperature (when hot keeps me cool) - this is summer so the UK winter is still to test this jacket and its heat retaining properties.
I'm yet to really test this in proper rain but the odd light shower its waterproofing is good and kept me dry.
As it stands, it's wearing well, but then at this price I expect it to, especially when only having it for around a month.
Delivery was quick and painless, I cant wait to put this jacket through its proper paces and a UK winter!