"FINALLY TRUE INNOVATION ON A HAT".  THE EXPEDITION HAT WILL KEEP YOU DRY AND WARM IN STORMS AND WILL TRANSFORM INTO A CAP IN A SECOND OR TWO.
The waterproof Expedition Hat has been engineered to keep you warm, dry, and safe from intense heat. Built with the same 3-layer fabric as the Alpha Series II 3L jacket, it integrates a futuristic membrane that not only breathes great but also won't leak a drop of water even if you are in the middle of a storm on the Bay of Bengal. A removable mask will cover your nose and mouth on extreme cold, while the lower part of the hat is connected to the upper cap by a fully waterproof zipper, so you can remove it and use it as a waterproof cap when things get tropical. An everyday carry (EDC) must.
100% water & windproof
Transforms into a cap
Graphene-integrated 3L fabric
Removable and adjustable face mask
Incredibly soft interior
One size fits all / back adjuster
2 zippered side pockets on the ears



Face layer: 70% Graphene integrated nylon and 30% polyester. PU membrane. Inner layer: 100% polyester. Lining and fur: 100% polyester. Mask: 88% Graphene integrated polyester and 12% spandex.
Weight: 140 grams (size M)
Graphene is integrated with the nylon fibers of the shell face and on the polyester fibers of the mask



Wash it properly, it'll last for years and years
Close all zippers
Use a detergent for waterproof clothing (Nikwax recommended)
Do not use softener
Cold water
Use delicate cycle
Do not tumble dry
Dry in shade
Do not iron



At Graphene-X we don't cut corners. That's why all our products are guaranteed for life. Graphene empowers our products with unrivalled durability and versatility
All orders over $189 qualify for free shipping. Under that we normally charge 75% of the cost the courier charges to us
Didn't love it or could use a different size? Send it back within 30 days of delivery and we will fully refund it or send you a new item


Fully waterproof and breathable hat
The 3-layer graphene-integrated fabric used is the same we use on our Alpha Series II jacket. Even though the fabric looks and feels like one, it's actually three layers sandwiched together, where the middle layer is actually a membrane that works as a water barrier but that on the other direction is able to wick moisture and breathe. If you add on top of this the fact that Graphene is hydrophobic you'll get a proper idea on how good this hat is keeping the water out.
Improvise, adapt, overcome
We believe that having a winning mindset can always be empowered with gear that works alike. The Expedition Hat has been thought to adapt to any kind of weather you through at it. From storms to striking heat. This will be your new favorite piece of everyday carry gear.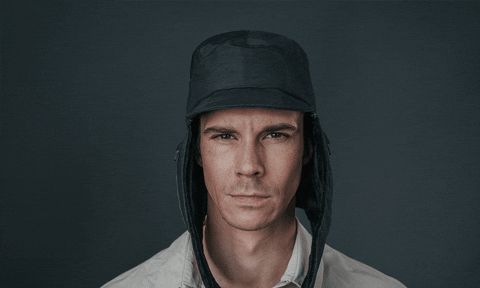 This little amazing piece of technology can save your life
The Expedition Hat is WAY more than a hat. Given the "wrong" conditions it can work as a life saver. We integrated a RECCO reflector on the visor. This reflector does not need batteries to operate and if for some misfortune you happen to get lost in the mountains, an avalanche or in a park, it can reflect the signal from rescue teams so they are able to identify your position.

Even though you won't ever see or feel it, it might just save your life.
One size fits all
The Expedition Hat features an elastic sweatband and a hook and loop fastener on the back so you can set up the fit as it suits you best. On top of the fastener, you'll also find a reflecting tape to help you be safe on darker settings.
Storage (yes, two)
In the development of any everyday carry (EDC) item, storage needs to be thought. The Expedition Hat was engineered as an EDC item and thus storage was part of the challenge. We added 2 pockets on the "ears of the hat" so you can store keys, bank notes, your air pods or any other smaller carry items.
Antibacterial shell face and removable mask
By integrating Graphene on the shell face of the hat and in the fabric of the removable mask, we are putting an extra barrier of protection between you and the world that could inactivate 98% of bacteria and kill over 90% of them even after being washed over 100 times.

The removable mask can be used as a personal protective item or well in our favorite use case: To protect your mouth and nose on extreme cold.
The best hat I have ever owned!
This modular hat is way ahead of its time. Not one does it do the job in heavy rains and snow, it keeps my skull and neck warm enough even in -10°C. Besides I love the fit and looks! It's a one size fits all but the adjustable Velcro does the job!
South Dakota
Just got a chance to try out the hat. IT'S GREAT. The hat is warm the ear flaps secure nicely in the wind. The construction is top notch.
Body status:
Athletic, Bulky / Muscular
Returning Customer
innovative, practical and beautiful clothing