UNRIVALED WEIGHT / WARMTH RATIO IN A JACKET THAT SELF-PACKS. THE GRAnaREC INTEGRATES GRAPHENE TO RECYCLED POLYESTER TO ELEVATE SYNTHETIC INSULATION TO A WHOLE NEW LEVEL 
Normally down jackets are associated with better warmth and durability but also linked to animal cruelty. Synthetic on the other hand is known for having better general performance/value but not always offering proper levels of warmth. The GRAnaREC jacket takes synthetic insulation to a whole new level with state-of-the-art insulation that integrates Graphene with recycled polyester fibers.
An ultra-high-performance mid-layer that can keep you warm in the most unwelcoming cold while being extremely light and tough but that can also be the best option when chilling at home.
Exceptional weight / warmth ratio
Self-packs in its chest pocket
Water resistant - PFC free WR
Windproof
Moisture absorption
Antibacterial
Anti-UV
YKK zippers (all)
Huge rear hidden pocket
Packable hood



Shell face and lining: 100% Toray Nylon 20D. The insulation is 70% recycled polyester and 30% graphene integrated polyester.
Weight: 490 grams (size M)
Graphene is integrated on the fibers that compose the insulation of the jacket.



Wash it properly, it'll last for years and years
Close all zippers
Machine wash in cold water with delicate cycle
Dry in shade
Do not iron
Do not wring
Do not tumble dry
Do not dry clean



At Graphene-X we don't cut corners. That's why all our products are guaranteed for life. Graphene empowers our products with unrivalled durability and versatility
All orders over $150 qualify for free shipping. Under that we normally charge 75% of the cost the courier charges to us
Didn't love it or could use a different size? Send it back within 30 days of delivery and we will fully refund it or send you a new item


Cutting edge insulation system
The GRAnaREC features the first ever graphene integrated insulation system. The thermal properties of Graphene rockets the warmth level that the recycled polyester insulation gives you. With only 80g/m2 fill there is no downside on weight or volume. Thousands of air pockets generated by the fibers retain heat to keep you warm. The far infrared properties of Graphene dramatically improves its performance to keep you warm when it's cold and to keep you fresh when the going gets active. 
20D Nylon 66 - A favorite in military field
On the shell and lining we use 100% 20D nylon 66. Nylon66 yarn was developed by DuPont in 1937 and is provided to us by Toray (Japan originary). Exceptional mechanical stretch, super breathable and extraordinary abrasion resistance makes of this fabric a favorite in the military field. All this while feeling incredibly soft thanks to the micro-texture we called"nano". 
Keeps performing when wet
The effectiveness of traditional down jackets decreases as moisture causes the down clusters to stick together and screws their ability to trap warm air. Besides they dry really slow. On the GRAnaREC, the Graphene integrated polyester fibers form air pockets that keep you warm, dry and comfortable even when wet. Besides, they dry much faster. To complement this, the GRAnaREC is coated with our top-performing Eco Bionic PFC free water repellent.
Densely compressed filaments for extreme compression
The short-staple filament insulation design features short strands of fine-denier filaments that are densely compressed to reduce heat loss. It also allows the jacket to be extremely compressible and self-pack in its chest pocket. This design helps in getting the same feel of softness and flexibility you see in down jackets without their cons.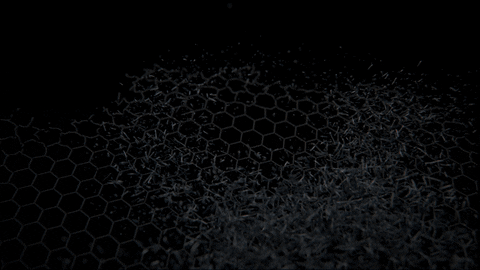 The A-team of devices are here
At Graphene-X we don't cut corners and every single element we use on the GRAnaREC is literally the best of the best we can find on the market. Every single one of the zippers in this state-of-the-art mid-layer is from YKK (even the ones you can't see) and even though their production lead time is over 90 days and their cost 3-5times more than the second best of the market this is how we run. When developing goods like ours there's only one way to go.
The perfect sidekick for the Alpha Series Shell jacket
The GRAnaREC is the perfect match for the 3L Alpha Series shell jacket when facing the harshest colds.When exposed to hardcore lower temperatures the GRAnaREC completely insulates you while the Alpha does the rest of the job keeping the elements out. This is the ultimate combo of layers. Want to see how our game changer Graphene based layers system works? Check this article.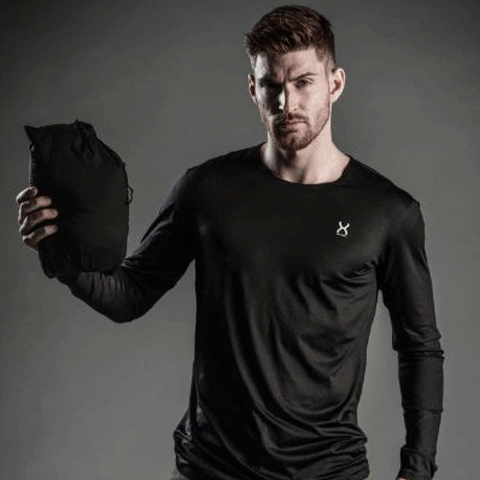 The power of pockets
Two frontal pockets, one chest pocket, one hidden massive rear pocket, one inner zippered pocket and one inner open pocket. Invisible YKK zippers all across so only you know where your stuff is. The GRAnaREC does not go shy on storage space so you can be fully prepared to excel in whatever your day throws at you. 
No to animal cruelty
Since humans started caring about the world we live in (not long ago) down insulation has been linked to animal cruelty. Just get the image of a bird being live-plucked... easy to get why this is just not right huh?

However, during the last years, we've seen market leaders announcing "Ethical Down" programs and other similar methodologies to "do things the right way". Well, evidence shows they're highly unreliable. They normally base their pillars only on certificates as the brand has no control over the supply chain of their providers. If this is an actual problem for the industry titans you can just imagine what's the situation for the rest. You can even hear people saying that down is a byproduct of the food industry as we still eat the animals. What they don't mention is the cruelty behind live-plucking a bird before it gets slaughtered (it doesn't work well for them if they do it the other way around. 

At Graphene-X we believe that material science is the road to get to the best performing products while not hurting anyone. We are committed to delivering outstanding products but at the expense of no one.
Best Jacket combination I've ever used
I'm a jacket fan. I've got at least one closet filled with different jackets / pants / outdoor clothing and I'm always looking for the perfect clothing for different situations. I've got ski gear, backpacking, rainwear. Motorcycle jackets or whatever I'm doing at the time. There are so many companies out there producing real similar gear that things like sizing and ease of use always make it difficult to decide on what you needed. I had a knee replaced a couple days ago and while cleaning out my flat beforehand I started looking at all the gear I have and deciding it was time to purge some products that I like, but just didn't fit like it should or several different jackets with the same features. You have to draw a line somewhere.
A couple of years ago I saw a new KickStarter project for a jacket made with a unique material called Graphene which is similar to the pencils you used in school. It offered some unique features like being water and wind proof while still retaining a look of most adventure gear or just a rain shell that is comfortable and stylish.
So I started looking at my full closets and it was time to reduce the number of items I had and donated several boxes of clothing to local charities.
It wasn't a severe winter year here in Wisconsin so a lot of the heavier items just weren't practical when compared to similar configurations. During this time there was one jacket that worked really well in different situations. We had mild winter, ok we call it mild when it isn't -20 degrees at night, that I could wear below freezing and be comfortable with some layering like a fleece sweater and it kept me warm in almost all situations. That jacket was the Graphene-X which had all the features I was looking for.
Waterproof, windproof, stylish, it just checked all the boxes. I have the newer version of the Graphene-X jacket Series II that has the ability to zip in their GRAnaREC MID-Layer Jacket.
I received it a few weeks ago and immediately determined that it was another great product when I first zipped it in. We were only in the 30s and 40s and when I received it which to me made the jacket almost too warm. What's nice that you really had 3 products to work with. The jacket for stormy weather, the MID-Layer Jacket for a kind of puffy and warm jacket for milder weather, and the ability to zip the GRAnaREC MID-Layer into the Graphene - X Jacket for more extreme weather. The two layers
The two zipped together easily and it felt great which usually isn't what you get with some of the other manufacturers out there. It does take a little time to get used to the stiffer shell and softer inner-layer, I don't think I've ever worn a more comfortable and practical jacket. I've got a heavy down parka and except for the coldest winter days, the Graphene-X combo was as warm and comfortable as my big fluffy down parka.
Of course there are a few issues with any outdoor clothing project. I was extremely happy that my 6'-5" height fit into a XXL. With the way manufacturers are sizing thins it's usually too small. I've got 4XL and 5XL jackets that are still too small. Why can't there be a universal size chart used across most products? Most size charts can vary by a couple inches or more making it difficult to find the correct fit even if the chart says it should.
It would be be nice to have a way to secure the sleeve ends to avoid them pulling out the jacket when taking it off. It's only happened to me a couple times and is won't happen if you remember there are two layers. It would be great if it had thumb holes to keep the two areas together. I had never been impressed with the thumb holes until I found a another sweater type top with them and fell in love with the way they keep the sleeves down. There is plenty of sleeve length to even fit my ape length arms. It would just make it a little easier to keep the arms in place.
They also have side slash pockets that zip together so you can access the pockets of the inner liner from the outside. This will be a great feature when doing outdoor photography or anything with similar batteries in the winter. Batteries are a lot happier when kept warm in the winter. They also work as vents when unzipped. The only issue I've had is while wearing just the shell you have to make sure the zippers that connect the two products are closed so nothing falls out from the inside. I did it with my keys a few times and now pay closer attention when checking pockets. The Graphene-X line has been enhanced by some base layers and hoodies along with some cold weather hats.
The next thing on my list are some of their OMEGA PANTS for rain and outdoor activities. With the abrasive resistant outer layer it feels tough enough to use as a motorcycle jacket if some pockets for padding were added to the back and sleeves on the shell.
In the end I donated about a dozen different jackets that weren't as useful to me. There was nothing wrong with them, they j...
Body status:
Bulky / Muscular
神奇的夾克
非常好穿,保暖,擁有質感並且堅韌,防風性能良好、快乾的。口袋的數量令人滿意。一件實穿度相當高的外套。絕對推薦
GRAnaREC MID-LAYER JACKET Review
Very happy with the fit, construction, and wearability of the jacket.
RELATED PRODUCTS
$349.00
$349.00