REVERSIBLE GRAPHENE-INTEGRATED ZIP-UP 3L HOODIE WITH HEAT/COLD MANAGEMENT AND PROTECTION AGAINST THE ELEMENTS. 
The Reversible Hoodie pushes the limits of the impossible to become the most advanced zip-up reversible hoodie ever made.
It's a specifically designed breathable hoodie that includes thermal management and protection against the elements through a reversible 3-layer fabric empowered by a futuristic membrane.
On one side is a soft graphene-integrated fleece that will keep you warm no matter what. In the middle is a membrane that combats the elements and, on the other side, a proprietary nylon-based fabric that will keep you fresh when it's baking hot.
Engineered to last for the rest of your life, the Reversible Hoodie by Graphene-X offers unrivaled comfort and extreme performance.



Reversible with heat&cold management
Extremely durable & abrasion resistant
Graphene-integrated fleece
Highly water-resistant
Breathable
Windproof
Moisture absorption
Antibacterial
Anti-UV
Protective collar with laser-cut holes



Warm Side: 100% Graphene-integrated polyester (150D/144F+75D) check fleece. Middle membrane: TPU membrane. Cold side: 88% nylon and 12% spandex (70/30 + 30DOP)
Weight: 900 grams (size M)
Graphene is integrated with the polyester on the fleece side



Wash it properly, it'll last for years and years
Close all zippers
Use a detergent for waterproof clothing (Nikwax recommended)
Do not use softener
Cold water
Use delicate cycle
Do not tumble dry
Dry in shade
Do not iron



At Graphene-X we don't cut corners. That's why all our products are guaranteed for life. Graphene empowers our products with unrivalled durability and versatility
All orders over $189 qualify for free shipping. Under that we normally charge 75% of the cost the courier charges to us
Didn't love it or could use a different size? Send it back within 30 days of delivery and we will fully refund it or send you a new item


Why make it reversible?
To achieve these key points:

1. That it protected you against the elements (heat, cold, rain, wind, snow).
2. Extreme levels of comfort (an uncomfortable hoodie is as good as diet water).
3. That it could last a lifetime.
4. That is was so versatile you could use it all year long.

Graphene-integrated fleece

Graphene is not only the strongest material on Earth, but it's also the lightest. On top of this, it has other marvel-hero-like properties: It's hydrophobic, bacteriostatic, flexible, it's almost completely transparent and it emits a Far Infrared Wave (energy) incredibly similar to the one emitted by the human body, meaning its superb at retaining heat when it's cold and to keep you fresh when it's hot.
This is the material we are empowering the fleece of the Hoodie-X with. Excited? You should.


Beating the cold

On one face, the Hoodie-X features a Graphene-integrated grid fleece which, when worn on the inside, will keep you warm even in the coldest conditions. Graphene excels at radiating heat, and it's Far Infrared (FIR) radiation profile is almost identical to that of the human body. That means women's and men's thermal hoodies are exceptionally efficient at accumulating and retaining heat. Also, due to the bacteriostatic properties of Graphene, the Hoodie-X will fight with no mercy the bacteria that causes clothing to smell.
Beating the heat

On the other face, we integrated a state-of-the-art Nylon-based Ruco-therm fabric developed by the German manufacturer Rudolf. Both women's and men's thermal hoodies boast fabric that boosts long-term evaporative cooling with a depot effect. The fabric is incredibly soft to the touch and feels like nothing you have ever touched before. These hoodies will keep you cool and dry even in the hottest conditions.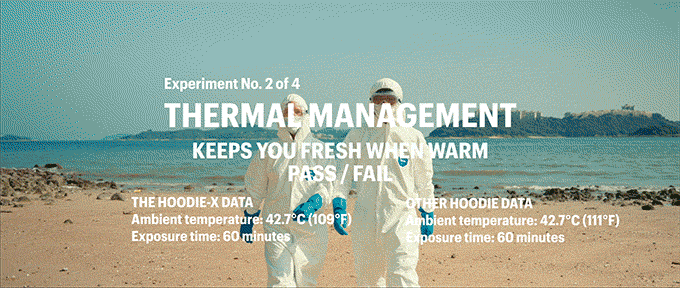 Ultra-high performance membrane

Now, the thing is that we face not only cold and hot climates but also rainy, snowy, and windy settings. The only way to combat them as well was to integrate an ultra-high performance membrane (which is sandwiched in between the other 2 fabrics). To achieve this, the fabrics undergo a heat process so they feel like one heavy-duty fabric.
Rain and wind will remain out

The membrane used on the Hoodie-X is hydrophobic (so rain and wind stay out) but also incredibly breathable as it allows moisture vapor to escape flawlessly. Even though this membrane is classified as a 10k waterproof membrane (Hydrostatic head test), we define the Hoodie-X as a highly water-resistant hoodie. 
This is because of the reversible nature of the hoodie. The only way to keep 100% of the water out (seams) when exposed for long times in heavy rain is with taped seams (as in the Alpha Series II Jacket). Nevertheless, the Hoodie-X will keep your bone dry in most situations.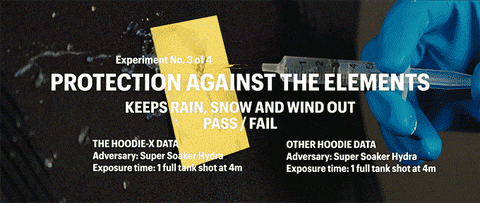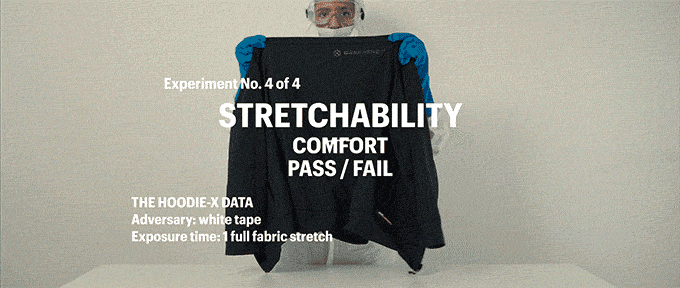 4-way stretchable and built to last a lifetime

A hoodie needs to stretch. Comfortability relies on this…badly! And the Hoodie-X does exactly that. This peak-performance hoodie stretches in a way that you would never imagine you are wearing a 3-layered membrane-integrated fabric.
Less stuff, but better stuff. This is part of our mission - and follows through into our guarantee terms. We work with the toughest material on Earth, with top-notch elements and with the best manufacturers in the world. Being the best and toughest in anything comes with responsibilities. Our apparel is guaranteed for life.
Storage (a.k.a. pockets!)

You can always use that extra pocket, right? On the Hoodie-X you get the 2 main frontal pockets, a chest pocket, and a secret/invisible cuff pocket.
These pockets are accessible through either side of the Hoodie-X so no matter if facing cold or warm climates you'll get plenty of storage to secure your goods.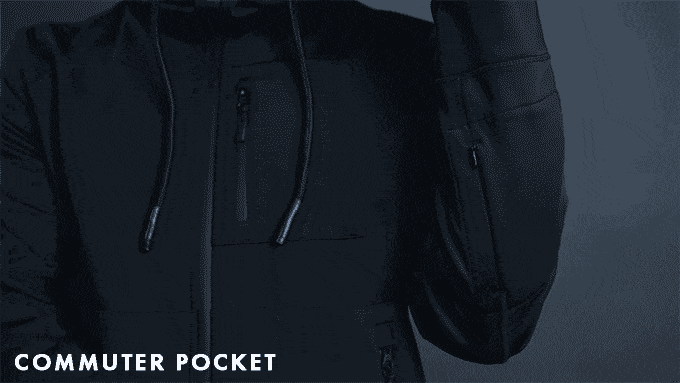 Only the best elements and construction out there

Waterproof zippers: The zippers on the Hoodie-X are waterproof. Yes, even the main frontal zipper.

Heavy-duty draw cord: We used heavy-duty drawcords. A hoodie that will last for the rest of your life needs to have these. Insanely tough and easy to handle.

Seams to last a lifetime: A key factor for durability are the seams. It's normally here where things go wrong and durability fails. Not on the Hoodie-X as seams are extra reinforced for extreme durability.

High-neck with laser-cut air-flow holes: The Hoodie-X features a high neck design for extra protection. This high neck is enhanced with laser-cut air-flow holes so you never feel "trapped" on that beefy layer of protection.

Treated with PFC-free Eco-Bionic DWR: In the outdoor industry, fluorocarbons (PFC's) are common in durable water-repellent coatings (DWR). Most DWR coatings contain PFC's that have been shown to be a hormone disruptor, like BPA. Not on the Hoodie-X, as our coating repels water with no added chemicals.
Because at Graphene-X versatility is a key value. Having one piece of clothing that can perform as two really nails this point. While wearing it on one side will keep you warm and toasty on the other side it'll keep you a couple of degrees fresher than a normal hoodie.

There are a few materials used for sweatshirts and hoodies, but some are warmer than others. One option is thermal hoodies. Both women's and men's thermal hoodies are made with a special material that helps to trap heat, making them great for chilly weather. Additionally, some hoodies are lined with fleece or soft fabric, which can also help keep you warm. Graphene is the material we use to make our Hoodie-X extremely warm from one if its sides.

Water-resistant clothing is made from materials that can resist some water, but they are not entirely waterproof. On the other hand, waterproof clothing normally sports a membrane that inhibits the water from leaking through the fabric. This hoodie features a fully waterproof membrane but due to the reversible nature of it we consider it as a highly water-resistant hoodie.

A reversible hoodie is a sweatshirt worn with the hoodie on either side. It means you can choose to wear the hoodie with the inside fabric showing or the outside fabric. Reversible hoodies are great because they offer two different looks and performance in one piece of clothing, and they can also be worn year-round.
Height:
Medium-sized miracle || Between 5'7'' (170 cms) and 5'11'' (180 cms)
2nd purchase
I ordered mine via Kickstarter a while back, and love it so much I ordered this one for my wife. I wear mine all the time unless it's hot outside. Loved the reversible sides to cool off when it gets warmer but still needing rain cover.
Height:
Small but mighty || 5'6'' (168 cms) and under
Nice fit but pockets could be a bit bigger.
Height:
Medium-sized miracle || Between 5'7'' (170 cms) and 5'11'' (180 cms)
Awesome
This Hoodie is the best piece in my wardrobe. Warm when cold and cold when warm.