Limitless Tote Bag / EDC Series
PRE-ORDER: SHIPS IN NOVEMBER 23'. INTRODUCING THE LIMITLESS TOTE BAGS, EXPERTLY CRAFTED USING THE SAME INNOVATIVE ULTRALIGHT AND FULLY WATERPROOF FABRIC FEATURED IN OUR TOP-SELLING NOMAD(E) JACKET. ENGINEERED TO BE SELF-PACKING, INCREDIBLY DURABLE, AND EXTRAORDINARILY LIGHTWEIGHT.
Graphene-printed membrane
Fully waterproof
16-Liter and 32-Liter capacity
Self-packable
Tough as nails
YKK Aquagard® zippers
Shell Face: 100% Ripstop Nylon. PU membrane
Weight: 320 grams(16-L) and 410 grams (32-L)
Advanced Material: Graphene ink
Tech: GRAPHINK™
Our LIMITLESS tote bags are a fusion of technical engineering and everyday convenience. Their waterproof integrity guards against unpredictable downpours, while the self-packable feature makes for effortless inclusion in your EDC kit. Recognizing that 99% of us often forget our reusable bags for supermarket runs, these totes consistently save the day. A robust companion that combines ample storage space with practical foresight.
Wash it properly, it'll last for years and years
Use a detergent for waterproof clothing (Nikwax recommended)
Do not use softener
Cold water
Use delicate cycle
Do not tumble dry
Dry in shade
Do not iron
At Graphene-X, we uphold the highest standards of craftsmanship. Every product we offer comes with a lifetime guarantee, as we harness the unmatched strength and adaptability of graphene and other advanced materials to ensure unparalleled performance.
Most orders over $189 qualify for free shipping. Under that we normally charge 75% of the cost the courier charges to us.
Didn't love it or could use a different size? Send it back within 30 days of delivery and we will fully refund it or send you a different size.
These are the different scenarios:
Case 1: If your order contains only Pre-Order (November 2023) products then it will be shipped by November 2023
Case 2: If your order contains November 2023 Pre-Order products plus other products and the sum of the other products is LESS than USD $189, then all the order will be shipped in November 2023
Case 3: If your order contains November 2023 Pre-Order products plus other products and the sum of the other products is OVER USD $189, then all the other products will be shipped now and the rest of the products by November 2023

Free Shipping over $189
30 Day Returns and Exchanges
Lifetime Guarantee
High Performance
Derived from the proprietary fabric of the Nomad(e) Ultralight Jacket, the LIMITLESS tote bags offer unmatched protection against adversities of weather. With its self-packable prowess, it's strategically designed to be your steadfast ally during expansive ventures and extended trips.
Versatility
Picture the LIMITLESS totes as the ultimate "Swiss army knives" in the realm of bags. Constructed to be your enduring yet discreet sidekick, its multifaceted utility will come to your rescue more often than you'd anticipate. Comparable to the indispensable nature of a home insurance policy, these totes become a near necessity each time you venture beyond your front door.
Tech: GRAPHINK™
GRAPHINK™ fabrics blend conductive graphene channels directly onto a waterproof membrane. Harnessing graphene's far infrared waves, they deliver unparalleled warmth. This design makes the products exceptionally lightweight. Beyond comfort and agility in use, the graphene integration boosts the fabric's strength, ensuring enhanced durability for rigorous activities.
EXPLORE OUR TECH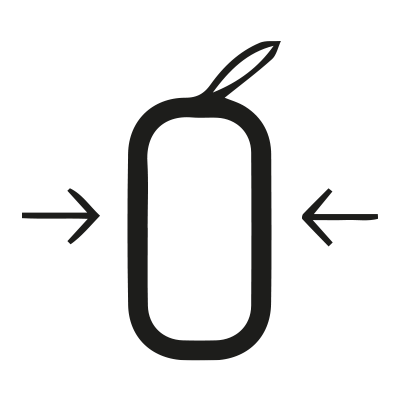 EDC Approved

Fully Waterproof
Tough as Nails
Graphene-printed
Ultralight and self-packable
Weight and portability are essential for any EDC (Every Day Carry) gear, and the LIMITLESS totes excel in both. They're designed with a self-pack mechanism for enhanced portability and crafted from ultralight waterproof fabric.
Ultralight and self-packable

Fully waterproof
Tough as Nails
Graphene-printed
YKK Aquaguard®
U.T.A.R. Graph
Designed for both city life and travel. Remarkably light for their capacity and resilience against the elements, the LIMITLESS tote bags are an absolute essential in your daily carry.
What is Graphene?
Graphene is a one-atom thick layer of carbon. It's the building block of Graphite (the same stuff you have in your pencils). This wonder material is stronger than steel (tensile strength), harder than diamond, more conductive than copper and has better electron mobility than silicon. The scientists that discovered Graphene won the Nobel prize in Physics in 2010. We integrate graphene on high performance fabrics to develop cutting-edge clothing.
Engineered to perform with