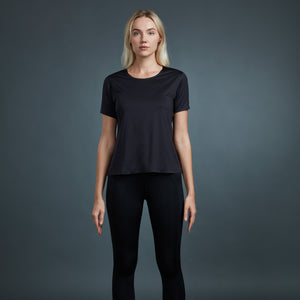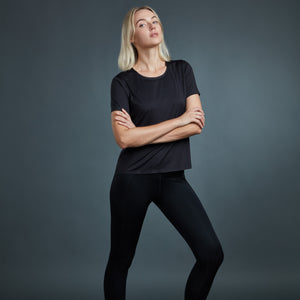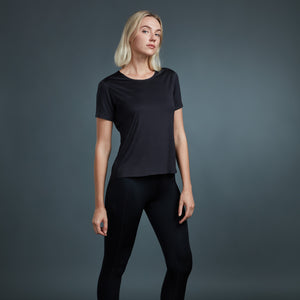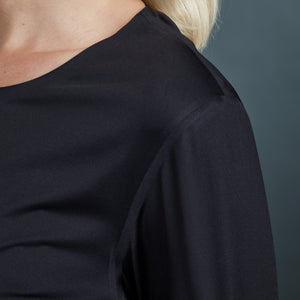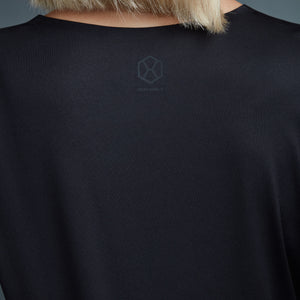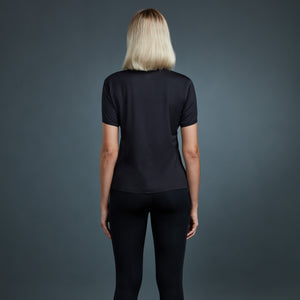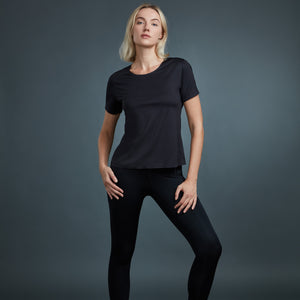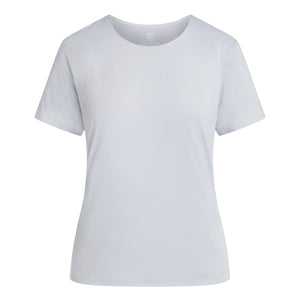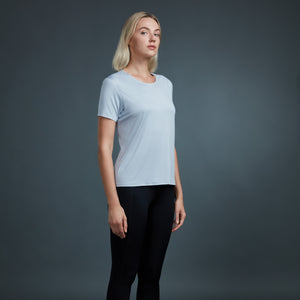 Layer-X Air (Women) / Activewear Series
DIVE INTO INNOVATION WITH THE LAYER-X AIR WOMEN'S TEE. PRECISION-CRAFTED FROM CUTTING-EDGE GRAPHENE-INTEGRATED FABRIC, IT FEATURES ELEVATED BREATHABILITY AND ULTRALIGHT COMFORT. A SYNTHESIS OF HIGH-TECH PERFORMANCE AND CLEAN AESTHETICS.
Ultra lightweight (140gsm)
Stitchless
100% seamless (laser-cut) 
Breathable 
Moisture absorption 
Antibacterial 
Anti-UV 
Total freedom of movement
90% Graphene integrated polyester and 10% spandex / 140gsm
Weight: 115 grams (size M)
Advanced Material: Graphene
Tech: GRAPHDRY™
The "why" of the Layer-X Air tee lies in its ability to provide uncompromised comfort, performance, and protection while ensuring a perfect fit and total freedom of movement. Its lightweight nature, seamless construction, and breathability offer a virtually unnoticeable yet protective layer, ideal for active individuals. The antibacterial and anti-UV features ensure a healthy interaction with the environment, making it a reliable choice for everyday wear, outdoor adventures, or athletic pursuits.
Wash it properly, it'll last for years and years
Machine wash in cold water with delicate cycle
Do not bleach
Do not iron
Do not wring
Do not tumble dry
Do not dry clean
At Graphene-X, we uphold the highest standards of craftsmanship. Every product we offer comes with a lifetime guarantee, as we harness the unmatched strength and adaptability of graphene and other advanced materials to ensure unparalleled performance.
Most orders over $189 qualify for free shipping. Under that we normally charge 75% of the cost the courier charges to us.
Didn't love it or could use a different size? Send it back within 30 days of delivery and we will fully refund it or send you a different size.

Free Shipping over $189
30 Day Returns and Exchanges
Lifetime Guarantee
Graphene skin
140gsm and a weight of 115 grams makes this tee 25% lighter than the original Layer-X. Step into the Layer-X Air tee and it's like stepping into a second skin. A graphene skin. Its ultra-lightweight, laser-cut, stitch-less design feels like wearing nothing, yet with the integration of this advanced material, it acts like a high-performance technical armor.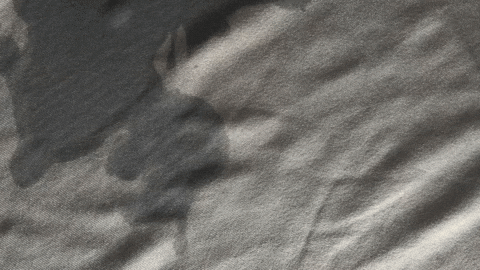 High Performance
The fabric fortifying the Layer-X Air ranks among the world's most advanced. Its astonishingly light composition belies the powerhouse of performance it encapsulates.
Versatility
The Layer-X Air tee is feather-light, breathable, moisture-wicking, antibacterial, and stretchable, ready to move with you from city streets to uncharted trails. It's the everyday tee, reimagined for a world that's anything but ordinary.
Tech: GRAPHDRY™
GRAPHDRY™ fabrics incorporate graphene, a nanomaterial renowned for its exceptional hydrophobic and antibacterial properties. This allows for efficient moisture wicking, while its antibacterial nature prevents the growth of odor-causing bacteria. The unique combination of these properties makes of this graphene-integrated fabric the ideal choice for high-intensity activities where comfort and freshness are paramount.
Explore our tech
Antibacterial

Breathable & Moisture wicking
Laser cut & Stitchless
Thermoregulating
Antibacterial and Anti-UV
Sweat alone is odorless, but it creates a breeding ground for bacteria, which in turn produce body odor. The Layer-X, enhanced with graphene, acts as a fortress against these bacteria, greatly reducing their presence. This means even as you sweat, the odor is kept at bay. Additionally, the Layer-X Air provides top-notch UV protection with a UPF rating of 50+, shielding you from the sun's harsh rays while you stay active outdoors.
Antibacterial and Anti-UV
Breathable & Moisture wicking
Laser-cut & stitchless
Thermoregulating
PFC and PFA Free
U.T.A.R. Graph
The Layer-X AIR excels in hot and humid climates or when your athletic pursuits push your limits. Nevertheless, its technical properties and clean aesthetics will have you reaching for it pretty much everyday.
Height:
Small but mighty || 5'6'' (168 cms) and under
Perfect top
This top is perfect and gets worn often! Only wishes -- more colors! More women's gear!
Height:
Medium-sized miracle || Between 5'7'' (170 cms) and 5'11'' (180 cms)
Amazing
This T-shirt is my new favourite. The material is so light and thin, but it's also really durable, so it's perfect. I also find the shape very flattering.
What is Graphene?
Graphene is a one-atom thick layer of carbon. It's the building block of Graphite (the same stuff you have in your pencils). This wonder material is stronger than steel (tensile strength), harder than diamond, more conductive than copper and has better electron mobility than silicon. The scientists that discovered Graphene won the Nobel prize in Physics in 2010. We integrate graphene on high performance fabrics to develop cutting-edge clothing.
Engineered to perform with