NO·MAD(E) / ˈNŌˌMADˌĒ / A FORWARD-DRIVEN GRAPHENEER WHO DOES NOT SETTLE NOR ACCEPTS STATUS-QUO; A WANDERER. A NOMAD(E) IS THE KIND OF PERSON YOU WANT BY YOUR SIDE WHEN THINGS GET HAIRY.
The Nomad(e) ultralight waterproof jacket is a high-tech performance hybrid that combines the elements of an emergency jacket, E.D.C. (everyday carry) gear, and a windbreaker. Thanks to its proprietary Graphene-caged membrane, it can save your life in extreme conditions but also empower your everyday city life like no other jacket on the market.
Built with bombproof workmanship the Nomad(e) weighs less than the average hamster but performs as a heavy-duty breathable & waterproof jacket.
This jacket elevates the concept of portable performance gear to a whole new level.
Waterproof
Graphene-printed membrane
Extremely lightweight
Self-packable
Reflective pattern
Windproof
Warmth insulator
Packable hood



Shell Face: 100% Ripstop Nylon. PU membrane
Weight: 250 grams (size M)
Graphene is printed on the PU membrane towards the skin of the user



Wash it properly, it'll last for years and years
Close all zippers
Use a detergent for waterproof clothing (Nikwax recommended)
Do not use softener
Cold water
Use delicate cycle
Do not tumble dry
Dry in shade
Do not iron



At Graphene-X we don't cut corners. That's why all our products are guaranteed for life. Graphene empowers our products with unrivalled durability and versatility
All orders over $189 qualify for free shipping. Under that we normally charge 75% of the cost the courier charges to us
Didn't love it or could use a different size? Send it back within 30 days of delivery and we will fully refund it or send you a new item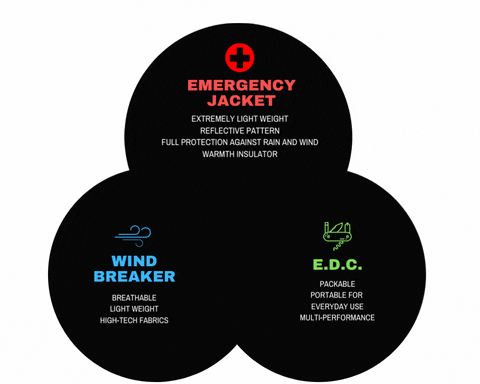 A hybrid of three:
The Nomad(e) Jacket incorporates key elements from:
1. Emergency Jacket: The purpose of an emergency jacket is to increase the chances of survival when you get lost or stranded under inclement conditions where you need to remain dry, warm and visible.
2. E.D.C.: Every Day Carry gear. It's usable in a wide range of scenarios and it's extremely packable and portable so you barely notice you're carrying it.
3. Wind Breaker: Exactly what its name suggests, protecting you against the wind that can be the game-changer element.
Proprietary fabric:

We associate technology with smart watches, virtual worlds and electric cars, but the fabric that skins the Nomad(e) jacket has every bit as much cutting edge technology behind it as our favorite screen-based toys.
The key element of this fabric is the proprietary membrane we developed. The membrane is what makes a jacket waterproof and allows it to breathe and wick moisture from your body.
We empowered our membrane with a Graphene printed grid that faces towards your skin and acts as a protective "cage" around your upper body (where your key organs are). This cage adds almost no weight to the jacket, but thanks to the nature of Graphene it helps to retain heat dramatically.
Waterproof, breathable and extremely tough:

We chose Ripstop nylon for the outer because of its durability. It's normally used for outdoor products that need to be light but withstand extreme conditions. You'll find it in high-tech sails and ultralight tents. We sandwich together the nylon outer and the membrane and bond them to each other with a thermal process.

The end result is an extremely thin but versatile fabric that feels great in your hands but can outlast the toughest tests of time and elements.
It self-packs and weighs less than a hamster:
Why you love your phone? Because it can do a bunch of things, it can be carried in your pocket and you barely notice it (except when you are being smahed with Whatsapp notifications). This is the same concept we focused to achieve with the Nomad(e) Jacket. It self-packs in it's own pocket transforming itself in a shoulder hanging bag where you can carry more stuff and that weighs less than the average hamster. Seriously.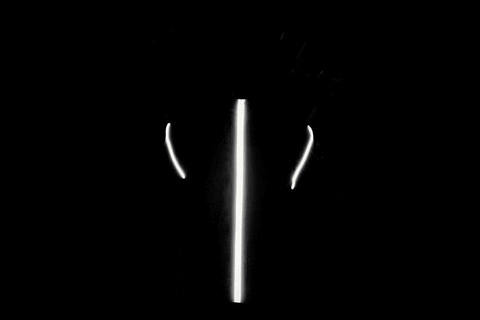 Reflective pattern:
A necessary element of any true emergency jacket. We developed an incredibly strong reflective pattern that follows the line of the jacket so you remain visible when moving through pitch black darkness.
Invisible hood:
The hood packs on the neck. We decided to sacrifice a couple of grams so you have the option of storing the hood when the situation doesn't require one.
Laser-cut ventilation holes:
Even though the Nomad(e) jacket sports an extremely breathable membrane considering it's level of water proofing and weight, we added laser-cut holes all along the back (shoulders and lower back) hidden among flaps, so water doesn't come in while air does when the going gets tough.
Airtight hem adjuster:
This beast features a tough and adjustable hem adjuster so you can block any level of wind and cold when you require.
Highly technical workmanship:
Ok, we created a game-changing fabric. But a great jacket demands workmanship and attention to detail to fully unlock the potential of the fabric.
Stitching seams make hundreds of holes in the fabric where water can get through, regardless of how good the membrane is. So, we apply a thermoplastic tape under heat and pressure that seals every seam with no gaps or holes.
When we look at the level of workmanship behind the Nomad(e) jacket, there are parallels with making a Swiss watch: automated machines still can't match the quality we get from our pro human team.
Unisex design:
The Nomad(e) jacket has been built taking into account that we have a growing pool of loyal backers from both sexes and in all sorts of sizes. Ranging from a 2XS size to a 2XL, this jacket is engineered to perform and fit as a glove. Due to the nature of the Nomad(e) jacket, the cut is unisex.
Great Portable Jacket - Carry for "Just in Case" weather
This is a very handy "jacket-in-its-own-pouch" cover, which will stuff into any backpack pocket or suitcase, or can even just be strapped over your shoulder.
It is really water and wind proof, so if you are unsure about the weather, you can bring it along any time. Great for travel.
Like all Graphene products though, I have found the sizes run a little small. I wear a medium comfortably in everything (5' 9" 155lbs), but with all their jackets (I have three different ones now) they always seem a little snug—I cannot comfortably put much under them. Unfortunately, the difference is not so much that I would go to a Large.
I suspect they are measuring for more typical Asian body frames, or just everyone at Graphene-X is very slim or undernourished, but just be aware.
Great product though.
Body status:
Thin, Athletic
thumbs up
Nomad(e)
Medium size. I find it light, good shape, easy to carry and to fold, good pockets and hood integrated. Good response to wind.
Like with other products of this mark after doing efforts wearing it (for example running with the Nomad (e)) I'm not very sure of the "breathing and wick moisture from your body", when I finish, the inside of the jacket seems to be wet.