"THE WORLD'S FIRST GRAPHENE INTEGRATED PANTS FEEL LIKE OUT OF A MAD MAX MOVIE, BUT ON STEROIDS". 

What if we developed a 3-layer fabric that stretches but remains fully waterproof? What if Graphene supercharged the shell face to resist unheard-of levels of abuse? What if you could use the same pants for skiing and commuting?
What if... there was no if. At Graphene-X, we refuse to sacrifice function for fashion. We crafted highly durable pants from the ground up to achieve an unrivalled combination of comfort, weather protection, and style that will change the way you think about outerwear.
Belt loops of 2,5 inches

Watch pocket + inner nylon paracord

Two front zippered hand pockets

Reinforced crotch
Knife pocket
Side flap with hidden carabiner loop
Side ventilation openings
Two zippered backside pockets on the back yoke
Mobile phone pocket (only on convertible version)
Magnetic storm flaps
YKK zippers all across the pants
Taped seams
Adjustable hems with hidden snap buttons
RECCO Reflector device



Shell face: 95% Graphene integrated nylon and 5% spandex. PU membrane. Lining: 100% polyester.
There's two differences between the convertible and the non-convertible versions. On the Convertible you can unzip the legs so the pants turn into shorts and the second difference is that the Non-Convertible do not have the frontal mobile phone pocket so the design is cleaner.
Weight: 950 grams (size M)
Graphene is integrated on the nylon that builds the shell face of the pants



Wash it properly, it'll last for years and years
Close all zippers
Use a detergent for waterproof clothing (Nikwax recommended)
Do not use softener
Cold water
Use delicate cycle
Do not tumble dry
Dry in shade
Do not iron



At Graphene-X we don't cut corners. That's why all our products are guaranteed for life. Graphene empowers our products with unrivalled durability and versatility
All orders over $189 qualify for free shipping. Under that we normally charge 75% of the cost the courier charges to us
Didn't love it or could use a different size? Send it back within 30 days of delivery and we will fully refund it or send you a new item


4-way stretchable & fully waterproof fabric
Normally you would need to sacrifice waterproofness when engineering stretchable fabrics (we are not talking about DWR or water repellent coatings, but true waterproof fabrics). Not in the OMEGA waterproof pants for men. 
Through a complex process of transfer laminating, we engineered a 3-layer fabric (shell + membrane + lining → all sandwiched together)that is able to stretch for comfort when moving while maintaining its waterproofness and breathability. So yes, you can even ski on these pants without getting wet and thrive in any adventure you are heading to.
Unfailing durability
Earth's toughest material, Graphene, is integrated into the shell fabric to supercharge the OMEGA pants. Graphene's toughness is translated into massive abrasion resistance. Military-grade gear is required to withstand 20.000 rubs in the Martindale Abrasion and Piling Test (a test designed to test how the fabric holds up after X amount of rubs that simulate wear). 
The OMEGA was tested with the maximum the laboratory (one of the world's finest) would accept to run: 150.000 rubs. The Omega's passed the test with flying colors. Managing all kinds of adventures is where the OMEGA pants feel more comfortable. These durable pants are "scienced" to last.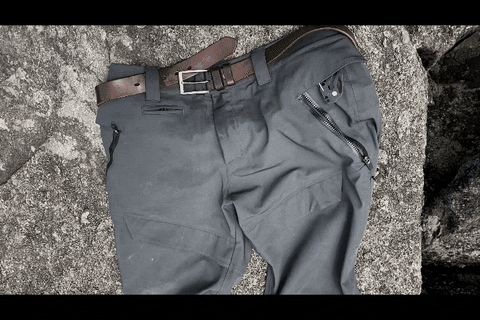 These are no "you won't feel them" pants
The OMEGA adventure pants are no "eco-superlight-you-won't-feel-them" pants. The feeling when trying them on would be closer to the one you get wearing armor. These pants are meant to last a lifetime and to perform in the most inhospitable places of the world. The fabric we use on the OMEGA's is probably one of the most advanced fabrics in the world, and every gram of the kilo their weight is aimed to empower your adventures.
Highly breathable plus lateral ventilation zippers
In hot/humid situations, you can't appreciate enough good breathability, especially when you are in action mode. Breathability is measured over a 24-hour period by the rate at which water vapor passes through a piece of fabric. 
This result is recorded in grams of water vapor per square meter (g/m2). In the case of the OMEGA breathable pants, this test threw an outstanding 11.768 g/m2/24 hrs. This is why they rate a 10k breathability index (even though it's actually more than that). On top of this, we added lateral ventilation pockets to over-achieve comfort when the situation demands more air.
Engineering the OMEGA's can feel like putting together a hardcore puzzle
Isolating Graphene and integrating it into the nylon fibers of the shell face of the OMEGA pants is only step one in a process that takes over four months to go through. Over a hundred different pieces/elements are needed to build the OMEGA pants. 
From dozens of fabric cuts to the most advanced YKK zippers to magnets that empower the storm flaps, everything on the OMEGA streetwear pants for men yells quality. Some may say these pants are "overbuilt," but that's exactly what we want. Pants that are adventure-ready to a whole new level.
The A-team of devices are here
At Graphene-X we don't cut corners and every single element we use on the OMEGA pants is literally the best of the best we can find on the market. Every single one of the zippers in these pants is from YKK (even the ones you can't see) and even though their production lead times is over 90 days and their cost 3-5 times more than the second best of the market this is how we run. When developing goods like ours there's only one way to go.
This little amazing piece of technology can save your life
The OMEGA pants are thought to be a truly all-round piece of equipment and their function does not stop in protecting you against the elements. Imagine you are doing some backcountry skiing or venturing into the middle of Amazonas and suddenly weather gets you lost and without any kind of communication with the world. Meet RECCO. RECCO is a reflector which does not need power to operate and which will reflect signals from the rescue mission so they can identify your position. This reflector is hidden inside the front pocket of the OMEGA's and even though you won't ever see or feel it, it might just save your life.
The power of pockets
Secret pockets, storm flap, protected pockets, utility pockets, rear pockets… you mention it. The OMEGA men's streetwear pants have it. The idea behind all these pockets was to empower these pants so you could eventually do without a backpack. They are meticulously thought and engineered so they feel natural but strong enough to carry absolutely anything you can imagine.
There are a few things to keep in mind when you're looking for adventure pants. First, consider what type of activity you'll be doing while wearing them. If you're going hiking or backpacking, you'll want a sturdier pair of pants that withstand wear and tear. If you're just looking for a pair of pants to wear around town, you can go for a lighter fabric.

Second, think about the climate where you'll be wearing them in. If you live in a cold environment, you might want to look for pants that are insulated or have a waterproof outer layer.

You might want to consider wearing men's waterproof pants for several reasons. For one, they can keep you dry and comfortable in wet weather conditions. They can also provide an extra layer of warmth in cold weather. Additionally, they can protect your skin from abrasion and scratches when you're out in the wilderness.

General care for pants is simple. You can machine wash your pants in cold water on a gentle cycle. We recommend hanging them to dry, but you can also tumble dry them on low heat. If you need to iron your pants, do so on a low setting. Do not bleach your pants and avoid dry cleaning whenever possible. If your pants sport a waterproof membrane (like the OMEGA pants) we recommend using a special detergent like Nikwax. 
Fit was not quite right
I thought the waist would be 32 but it was more like 36 or 37. So big I could not belt it up comfortably. The fit in the crotch was uncomfortable and the pants were probably 4" too long (which I would have hemmed if the waist was not so far off).
Height:
6'1" (1.86m), 6'2" (1.89m)
Fit:
They run small, True to size
Very good quality but a little to small in length
I first ordered a XL, but this was way too large around the waist and was a mistake on my part. Graphene-X exchanged it to an L, which is smaller around the waist but with the same in-seam of 31 inches. It fits well, but I still need a belt.
QUALITY: wonderful. I wore them during a 1,5 hours walk in constant rain at 5 Degrees C including some hail hitting our faces. I stayed completely dry around the legs and that's what the pants were made for.
DOWNSIDE: I am 188 m in height, somewhat athletic build and have a 32 inch in-seam. The pants with the given 31 inches end right around the ankle (looks a bit like the modern-again trousers you see on the streets this days; looked ugly then, looks ugly now; I'll never get it), which is good enough if you wear high walking boots, but is not when wearing low shoes / loafers. I wore Gore-Tex half-shoes but due to the smaller length the water was dripping right into them on the sides. So for me they run small when it comes to length but are a good fit at the waist.
I mean, I get it. Producing pants in small batches must be tough. In my case I might not have the "standard" format with me legs longer than average. I am glad that Graphene-X therefore offers different in-seams with there latest pants on Kickstarter.
I'd buy them again, if I could get L with 32 Inch in-seam.
Body status:
Bulky / Muscular
Waterproof pants
I primarily bought these pants for rainy ski days and walking the dog in a downpour. I have used them on several occasions and I can attest that they are definitely waterproof. These pants have a very nice stretch in them that means they don't hinder movement. My only problem with these pants is that they seem so nice I don't want to go to rough on them. I'll get over that because they do the job so well.