"RAIN JACKET MEETS A BATMAN SUIT" - MEN'S JOURNAL 
The Alpha Series jacket sets a before and after in all-round clothing. After crushing its debut on Kickstarter and being sold in over 70 countries in one month, the Alpha Series jacket is back. 
Graphene is integrated into the shell face adding superlative abrasion resistance and self-regulating heat retention to keep you warm when cold and fresh when you need to get active while remaining extremely lightweight. The 3-layers in this jacket come together to deliver unparalleled performance.
Absolutely waterproof, lightweight, and with the highest levels of breathability. This jacket is perfectly "scienced" to last. 
Extremely durable & abrasion resistant
Lightweight
Waterproof 
Breathable
Windproof
Moisture absorption
Antibacterial
Anti-UV
YKK zippers (all)
Pit zippers
Drop back hem
Taped seams
RECCO® Reflector device
Protective collar with invisible adjusters



Shell Face: 48% Nylon, 30% Graphene-integrated polyester and 22% cotton. PU membrane. Lining: 100% polyester
Weight: 600 grams (size M)
Graphene is integrated with the polyester threads on the shell face of the jacket



Wash it properly, it'll last for years and years
Close all zippers
Use a detergent for waterproof clothing (Nikwax recommended)
Do not use softener
Cold water
Use delicate cycle
Do not tumble dry
Dry in shade
Do not iron



At Graphene-X we don't cut corners. That's why all our products are guaranteed for life. Graphene empowers our products with unrivalled durability and versatility
All orders over $150 qualify for free shipping. Under that we normally charge 75% of the cost the courier charges to us
Didn't love it or could use a different size? Send it back within 30 days of delivery and we will fully refund it or send you a new item


Integrated with the world's toughest and thinnest material
The Alpha Series jacket is no regular jacket. It's shell face is empowered with Graphene, the toughest (and lightest) material on Earth. Many have started talking about the coming "age of Graphene" and how this material will disrupt the world as we know it. We have worked hundreds of iterations to see how to empower the Alpha Series shell face with Graphene and the efforts have paid off. Sourcing the best Graphene out there and properly integrate it to our fabrics is no easy task, this is why the Alpha series jacket takes over 4 months to be manufactured.
Engineered to last a lifetime
Graphene's tensile strength is 200x stronger than the one you find in steel and this becomes evident when you test the abrasion resistance of the Alpha Series jacket. We ran the Martindale Abrasion and Pilling test on the Alpha Series jacket (a test designed to test how the fabric holds up after X amount of rubs that simulate wear) and after 50.000 rubs the fabric was as good as new. As a reference military grade gear is required to withstand 20.000 rubs to be fit for duty.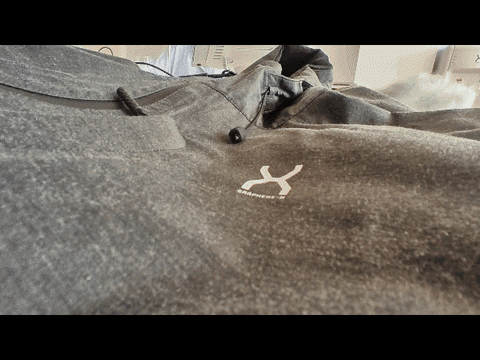 Superlative thermal distribution
Graphene radiates Far Infrared Energy (FIR) almost identically as the human body. This leads to incredibly efficient heat management. We have tested the Alpha Series jacket accompanied with just a t-shirt in temperatures of 5 Celsius (41 Fahrenheit) and felt comfortable. Humidity, wind and even your own metabolism can change your comfort levels so consider using a mid-layer like the GRAnaREC if your adventure takes you to colder situations to play along with the Alpha Series jacket.
Waterproofness and breathability –
it's all about the right balance.
Waterproofness is measured in millimetres using a Hydrostatic Head test and the procedure checks how many millimetres of water can the fabric withstand before it leaks. The higher this number, the higher the waterproofness level. On the other side, the higher this number, the lower the breathability (imagine wearing a plastic bag – it sure won't allow water to come in but you'll feel like wearing a sauna). The Alpha Series jacket hits the spot in this balance, allowing you to hike in the middle of a hurricane without water leaking in, but featuring high levels of breathability so the experience is flawless.   
Antibacterial shell face
With Covid-19 we started caring more than ever about hygiene and protecting ourselves against external pathogens. Copper and silver are known for their antibacterial properties and have been widely used to empower goods. Less known is the fact that Graphene is antibacterial as well. By integrating Graphene in the shell face of the Alpha Series jacket we are putting an extra barrier of protection between you and the world that could inactivate 98% of bacteria and kill over 90% of them even after being washed over 100 times.
The A-team of devices are here
At Graphene-X we don't cut corners and every single element we use on the Alpha Series is literally the best of the best we can find on the market. Every single one of the zippers in the Alpha Series is from YKK (even the ones you can't see) and even though their production lead times is over 90 days and their cost 3-5 times more than the second best of the market this is how we run. When developing goods like ours there's only one way to go.
This little amazing piece of technology can save your life
The main purpose of a jacket like the Alpha Series is to protect you against the elements. Well, the Alpha goes way beyond that. Imagine you are doing some backcountry skiing or venturing into the middle of Amazonas and suddenly weather gets you lost and without any kind of communication with the world. Meet RECCO. RECCO is a reflector which does not need power to operate and which will reflect signals from the rescue mission so they can identify your position. This reflector is hidden inside the hood of the Alpha Series jacket and even though you won't ever see or feel it, it might just save your life.
Height:
Less than 5'5" (1.67m)
Fantastic
One of the best jacket I've ever owned, fantastic windbreaker and water proofness
Body status:
Thin, Athletic
Next level quality!
Great attention to details and very good fit!
The jacket claims to be waterproof -- which it 100% is!
I had a walk in heavy rain, with pants from another manufacturer claiming waterproof pants, but whereas I was soaking wet from thighs down after 15-20 min, this jacket keeps you completely dry!
Fit, style, quality - Graphene-X is really onto something in saying that this is the last jacket you'll ever need!
Best jacket I ever had
Simply put, I love the Alpha jacket. I haven't been able to test it for durability yet, but I appreciate all of the design elements - well-placed zippers, effective sleeve end adjustment, a simply perfectly designed hood - and the temperature regularion is by far the best I've ever seen, especially for a jacket so thin. We currently have -5 to + 5 degrees here since I got the jacket, and I have neither been chilly nor hot and sweaty in the jacket, even when wearing only a T-shirt underneath, carrying a backpack or riding my bike.
As for sizing, it was a bit of a gamble on my part - I normally wear size M (European), and my chest measurement is actually over the indicated size of the product on the size chart, let alone the recommended "- 7.6 cm". I still went ahead with the order since I like a very snug fit in my jackets. And I have found I can even wear a thick hoody underneath without restriction of movement, so I'd say they run slightly larger than indicated.
RELATED PRODUCTS
$349.00
$189.00