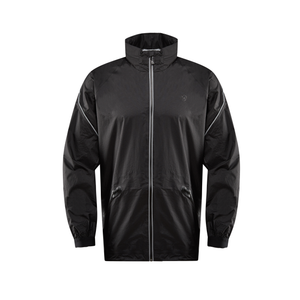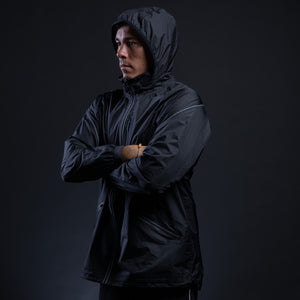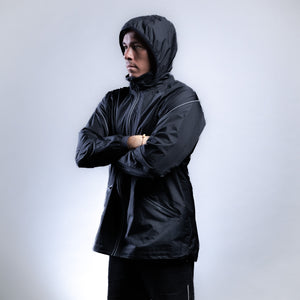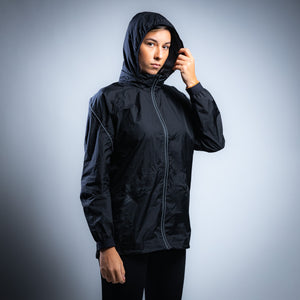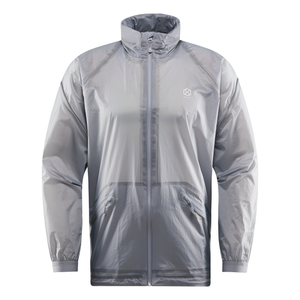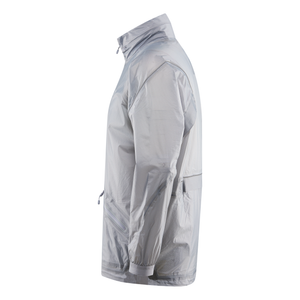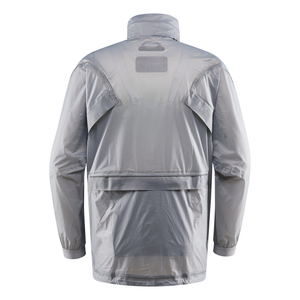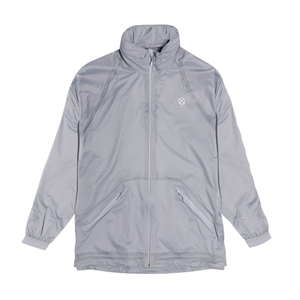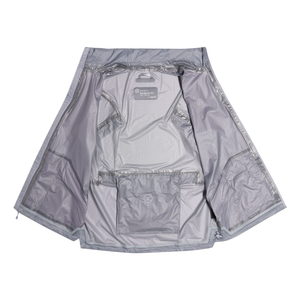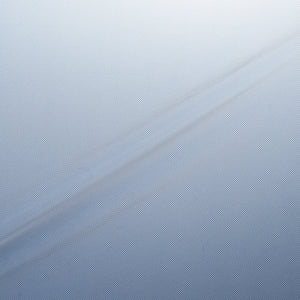 Nomad(e) Ultralight Waterproof Jacket / EDC Series
NO·MAD(E) / ˈNŌˌMADˌĒ / A FORWARD-DRIVEN GRAPHENEER WHO DOES NOT SETTLE NOR ACCEPTS STATUS-QUO; A WANDERER. A NOMAD(E) IS THE KIND OF PERSON YOU WANT BY YOUR SIDE WHEN THINGS GET HAIRY.
Ultralight
Waterproof
Graphene-printed membrane
Self-packable
Reflective pattern
Windproof
Warmth insulator
Packable hood
Shell Face: 100% Ripstop Nylon. PU membrane
Weight: 250 grams (size M)
Advanced Material: Graphene ink
Tech: GRAPHINK™
Integrating cutting-edge technology, the Nomad(e) Ultralight Jacket boasts a 2.5 layer design, combining a shell, waterproof membrane, and a strategic graphene-ink inner lining. The graphene enhances the jacket's ability to regulate temperature, ensuring optimal comfort in diverse conditions. Designed with utmost precision, it's exceptionally lightweight and packable, easily fitting into your everyday carry. Whether you're facing unexpected rain, gusty winds, or just need an everyday reliable piece, this jacket stands as an embodiment of adaptability, seamlessly transitioning between roles: an emergency shield, a steadfast windbreaker, and a staple EDC gear.
Wash it properly, it'll last for years and years
Close all zippers
Use a detergent for waterproof clothing (Nikwax recommended)
Do not use softener
Cold water
Use delicate cycle
Do not tumble dry
Dry in shade
Do not iron
At Graphene-X, we uphold the highest standards of craftsmanship. Every product we offer comes with a lifetime guarantee, as we harness the unmatched strength and adaptability of graphene and other advanced materials to ensure unparalleled performance.
Most orders over $189 qualify for free shipping. Under that we normally charge 75% of the cost the courier charges to us.
Didn't love it or could use a different size? Send it back within 30 days of delivery and we will fully refund it or send you a different size.

Free Shipping over $189
30 Day Returns and Exchanges
Lifetime Guarantee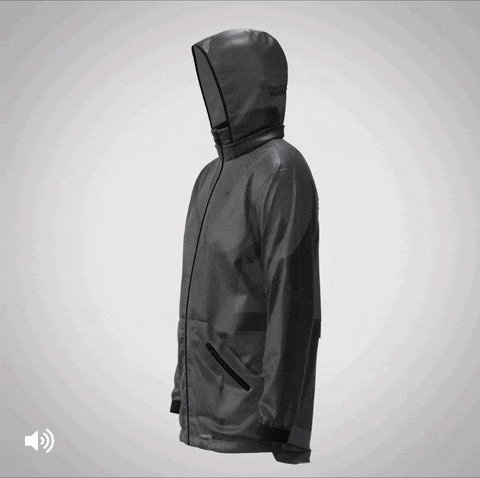 High Performance
With its unique 2.5-layer system, the Nomad(e) Ultralight Jacket stands as a beacon of advanced apparel technology. A resilient outer shell is partnered with a dedicated waterproof membrane, upon which a sophisticated layer of graphene-ink is meticulously printed. This innovative graphene arrangement not only channels heat towards the body, ensuring enhanced warmth but also provides formidable protection against rain, wind, and the cold. Designed to be ultralight and self-packable, it's your go-to protective layer for every journey.
Versatility
Drawing inspiration from the quintessential attributes of an emergency jacket, the practicality of a windbreaker, and the handiness of an EDC gadget, the Nomad(e) UL Jacket is a multipurpose marvel. Whether offering life-saving warmth on a desolate mountain or shielding you from unexpected gusts in the city, its adaptability is evident across myriad environments and circumstances.
Tech: GRAPHINK™
GRAPHINK™ fabrics blend conductive graphene channels directly onto a waterproof membrane. Harnessing graphene's far infrared waves, they deliver unparalleled warmth. This design makes the products exceptionally lightweight. Beyond comfort and agility in use, the graphene integration boosts the fabric's strength, ensuring enhanced durability for rigorous activities.
EXPLORE OUR TECH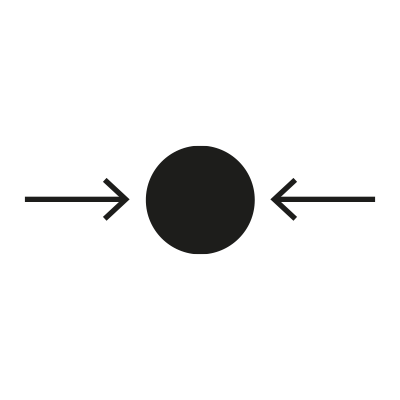 Hybrid of 3

Waterproof & Tough

Ultralight & Unisex
Key elements
A hybrid of three
The Nomad(e) Jacket seamlessly merges features from:
Emergency Jacket: Designed to enhance survival prospects when stranded or lost in harsh conditions, ensuring you stay dry, warm, and visible.
E.D.C. (Every Day Carry): Suited for various scenarios, it's highly packable and lightweight, making it an unobtrusive carry-along.
Wind Breaker: As the name implies, it offers essential protection against potentially detrimental winds.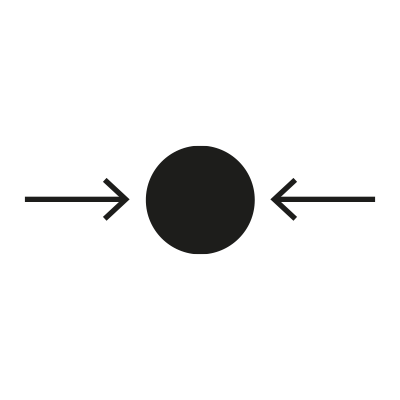 Hybrid of 3

Waterproof & Tough

Ultralight & Unisex
Key elements
Pro Craftsmanship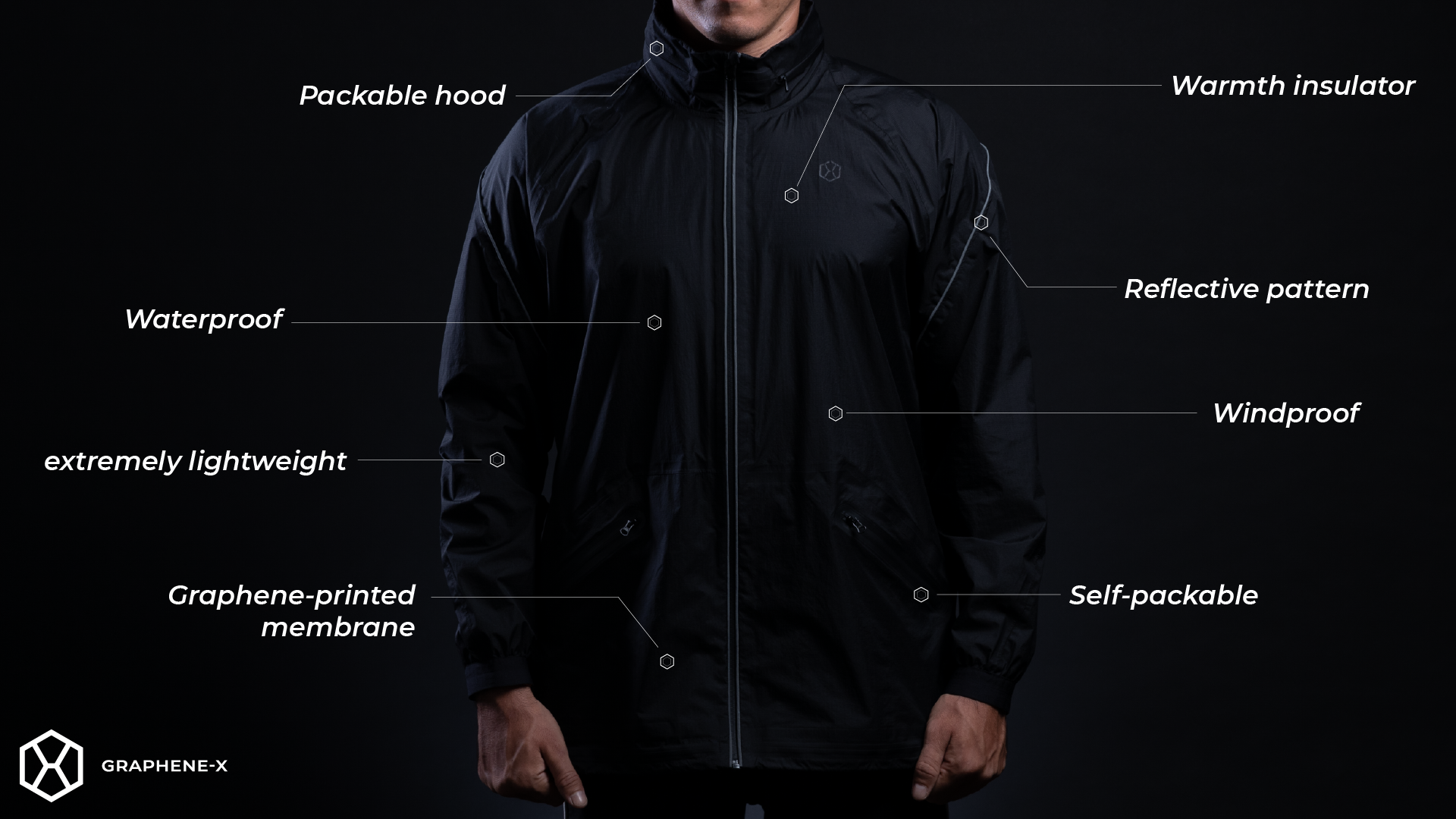 U.T.A.R. Graph
By integrating elements from three distinct realms, the Nomad(e) Ultralight jacket performs exceptionally across the entire U.T.A.R. spectrum. It's perfectly suited for city errands and casual hikes, yet astonishingly adept for rigorous expeditions around the globe. Given its lightweight and compact design, this jacket is an EDC essential.
Nomad(e) Ultralight Waterproof Jacket / EDC Series
Height:
Medium-sized miracle || Between 5'7'' (170 cms) and 5'11'' (180 cms)
My wife stole my first coat.
She loves how light and yet warm they are. I purchased a second and I love how light they are.
Height:
Small but mighty || 5'6'' (168 cms) and under
Body status:
Thin, Athletic
Nice Sport Jacket
I have been a customer of nearly all the Graphene-X series products, and the Nomad jacket is a solid addition to the line-up. It provides an excellent packable jacket option to ensure you are covered when the weather changes.
Perfect for daytime use, I constantly wear it for cycling and running. The reflective features also make me highly visible.
The only drawback for me is that the size XS fits me perfectly, but the sleeves are actually slightly too short. This is mainly due to the tight elastic that keeps the sleeves in place.
What is Graphene?
Graphene is a one-atom thick layer of carbon. It's the building block of Graphite (the same stuff you have in your pencils). This wonder material is stronger than steel (tensile strength), harder than diamond, more conductive than copper and has better electron mobility than silicon. The scientists that discovered Graphene won the Nobel prize in Physics in 2010. We integrate graphene on high performance fabrics to develop cutting-edge clothing.
Engineered to perform with